Just a year ago, would you have ever thought that your working days wouldn't be spent at your traditional workplace, but rather from your couch, your kitchen table, or even your bed?
For so many of us, the notion of 'working from home' has certainly taken on a new (and seemingly permanent) meaning. Not to say that our sudden shift to maintaining a 'home office' hasn't come with its fair share of challenges. Gone are the regular rhythms of workplace culture, the face-to-face interactions, and the peer-motivation that would have helped us to work more effectively not so very long ago.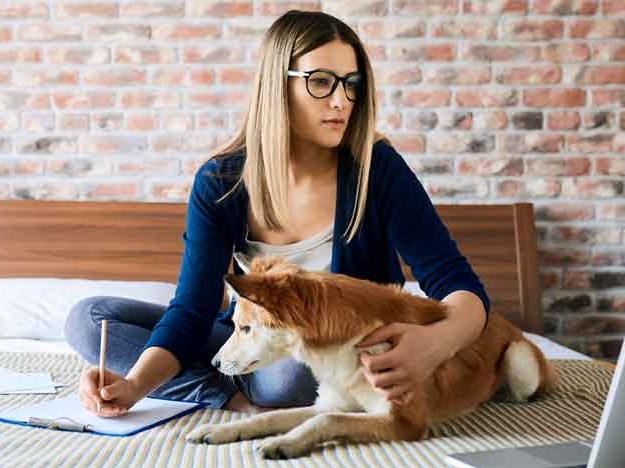 Without these traditional working structures in place, it might seem easier than ever before to lose focus and fall into unproductive habits – after all, adapting to news ways of remote working isn't always a breeze!
Thankfully, however, there are many things we can do to maintain our focus while working from home. Here, we're going to explore several effective strategies for staying focused, which will help provide more structure and, importantly, a balance between your job and your life once you're off the clock.
Strategy 1: Create a Dedicated Workspace
While it may seem tempting to freely move around your apartment, taking your laptop from one area to the next, but trying to work with no fixed space can also prove to be quite the distraction. Instead, dedicate an area – perhaps a corner that you don't use often, or the far side of your dinner table – solely for the purpose of working. By doing so, you can mentally 'enter' the space with a time-to-work frame of mind – rather than let your focus wander.
Strategy 2: Structure Your Days for Success
Being away from your usual workplace environment can feel freeing, however it can also affect the structure of your days, making them feel a little too free. Try organizing your days into structured blocks of time, affording you opportunities to hunker down and crank stuff out while still being able to attend virtual meetings and take plenty of well-earned breaks.
Strategy 3: Set Time Limits on Your Media Consumption
We all need a few minutes to scroll, like a few Insta pics, and catch up on the latest news and gossip, but if you don't set limits to your personal online time, it could very well interfere with your focus! If you have the willpower, you can always set a timer for yourself to concentrate on work tasks; if, however, you need a helping hand, there are several desktop and mobile apps that will effectively limit screen time for you.
Strategy 4: Make Time for Break Time
Just because you're working from home, doesn't mean you get to relax and recuperate whenever you want – your days are busy, busy, busy! Without the coffee breaks and lunches, you used to take with your workplace buds, it's up to you to designate enough 'me time' to feel balanced and recharged. Whether it's taking a daily walk or doing a lunchtime yoga session, taking a break will dramatically benefit your focus.
Strategy 5: Give Yourself a High-Five!
You know what isn't always easy? Working from home during a pandemic, that's what. But it's so important to celebrate your successes and your ability to get up every day and keep at it! That's no small task, considering the many things (social media, pets, partners, kids, the news) vying for your attention at home. Whether you regularly hear it from your team or not, you've got this, and that's something to be celebrated!