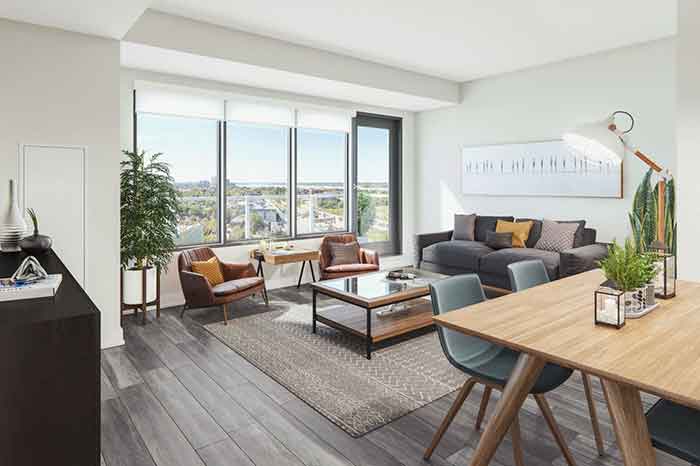 The big moving day is right around the corner, and we are so excited for you to move to Westboro Connection. If you've ever moved before, you'll know that there is a lot of planning and packing involved. Especially when you realize just how much stuff you actually have.
Thankfully, moving day doesn't have to be a chaos t as long as you're prepared and organized-exactly why we've put together a moving checklist that will help you stay organized through all the moving process. Ready to move like a boss? Let's get started.
The Before Stuff…
✔ Set a Moving Budget
You'll need to set some money aside for all of the expected (and a few unexpected) moving expenses including supplies like boxes and tape, a moving service, cleaning supplies, DIY repair supplies, and some takeout (who wants to cook on the big day anyway!).
✔ Start Purging
Over time, we tend to amass a lot of stuff – clothing, tchotchkes, books and magazines, gadgets and gizmos, and just about everything else. Moving is a great excuse to start going through all of your possessions, and then purging the stuff you no longer want in your life. After all, if Marie Kondo has taught us anything, it's that a little less clutter goes a long way!
✔ Get Your Moving Supplies
Unless you've mastered the art of minimalist living, you'll need plenty of boxes to pack up all of your stuff. Add to the list packing tape, labels or markers, bags, and anything else you'll need to transport your life.
✔ Update Your Address
You'll need to ensure that your new address is on file with all the usual suspects – the post office, your bank, your insurance provider, your food delivery apps, amazon, etc. And if you have a pet with a chip, you'll need to update that info too.
✔ Pack It Up
As you get closer and closer to the big day, you'll want to pack up as much stuff that you don't use on a daily basis. If this seems like an overwhelming task, don't worry too much – by setting a reasonable goal of one or two boxes a day, you can stay on top of the packing and be ready to go when the time comes. And don't forget to clearly label EVERYTHING!
✔ Confirm the Moving Service
If you're planning on using a moving service, you'll want to confirm that well in advance (and ensure you've budgeted properly to pay, since moving ain't cheap). However, if you've decided to ask your friends or family for help instead, you'll want to double-check with all parties to ensure they're still willing and able.
✔ Transfer Your Day-to-Day Services
Internet? Cable TV? Electricity? Chances are you'll have to arrange for your various services in advance, so you aren't stuck waiting for days on end without a WI-FI signal!
The Day-Of Stuff…
✔ Old Home Walkthrough
You'd be surprised at how often we forget things in the chaos and confusion of moving day. The last thing you want to do is realize that you've left behind a few odds and ends. Once everything has been moved out, take a few minutes to check all of your empty rooms, cupboards, closets, nooks, and crannies – better safe than sorry!
✔ Cleaning Supplies
Whether it's for cleaning up your old place before dropping off the keys, or ensuring that your new pad is all clean and tidy, you'll need some moving day cleaning supplies. Plan on needing paper towels, all-purpose cleaner, rubber gloves, a broom and a mop (with bucket, of course), and your choice of scent if you want to make your new place a little more yours from the get-go.
✔ My-First-Night Necessities Kit
Once the move is done, and you're surrounded by boxes and bags (hopefully all clearly labeled) and general chaos, you'll be glad you packed a necessities kit with all the stuff you'll need for your first night.
This should have everything from toilet paper, soap, medicine and your toothpaste/toothbrush, to towels, masks, hand sanitizers, a fresh change of clothes, pet supplies (if needed), your phone charger, and even fresh bedding. Trust us – you'll be glad you planned ahead, especially at the end of a tiring day!
✔ Settle into Your New Space!
This is the fun part. Once the move is done and the dust has settled, it's time to make your new apartment yours! You've probably thought of this in advance (and maybe even had the foresight to take some pics ahead of time to help with the layout and planning), so let the unpacking and decorating begin!
And when you need a break, this is also your perfect opportunity to explore all of the cool local businesses in your hood – coffee break, anyone?
As you can see, there's plenty to do before, during, and after moving day.
Download our moving checklist and maintain a sense of order to a time in your life that can feel anything but!