Ryan Smeeton transforms the street wall of Ottawa into breathtaking artwork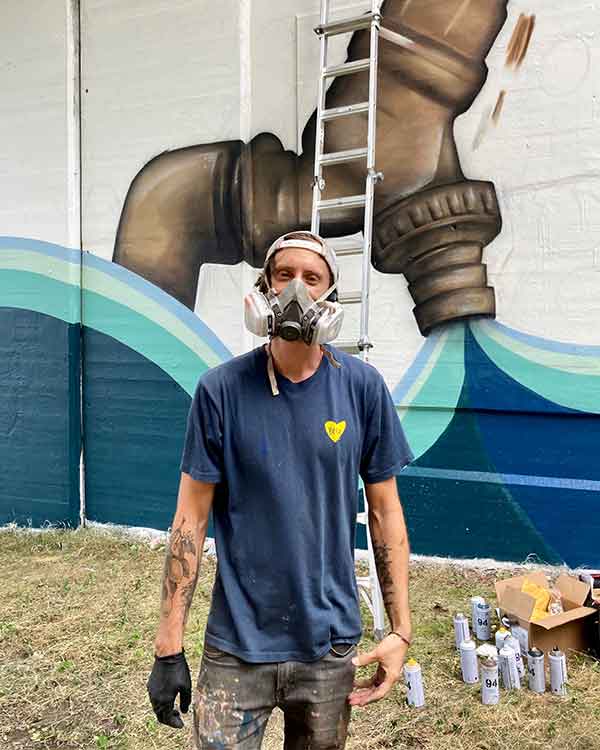 Outdoor murals can be a funny thing. We absentmindedly stroll by them until they become familiar fixtures in our days. We look at them, perhaps we may even snap a picture for Instagram, but more often than not, these large and inspiring works of public art remain anonymous.
However, for Ottawa-based mural artist Ryan Smeeton, creating a connection with passersby is a big part of his process when he's painting outdoors.
"Interacting with people, and bringing light and colour to public spaces, is one of the best parts of what I do," explains Ryan. "As you start a project, there won't be too much interaction, but as the days go by, you can start to see the image emerging. People start to get more excited and you can feed off of that energy."
Whether or not locals have seen Ryan at work, they may very well have seen his murals around Ottawa. Ryan's work is characterized by vibrancy, flamboyancy, and movement. They focus on hyper-realistic larger-than-life hands, bright flowers or faces captured in a moment of contemplation or action. Ryan often balances the realism of his work with abstract flourishes –a background spattering of colour here, an evolving cluster of shapes there. Some of his noteworthy works can be seen at the Canada Science and Technology Museum on St. Laurent Blvd and the Professional Institute of the Public Service of Canada in Eastway Gardens.
Ryan has been painting murals professionally since 2015, after leaving his job for an artist's residency in Spain's countryside, where nearby abandoned buildings provided the oversized blank canvases that inspired his interest in large-format work. He sees his style as ever-changing and evolving.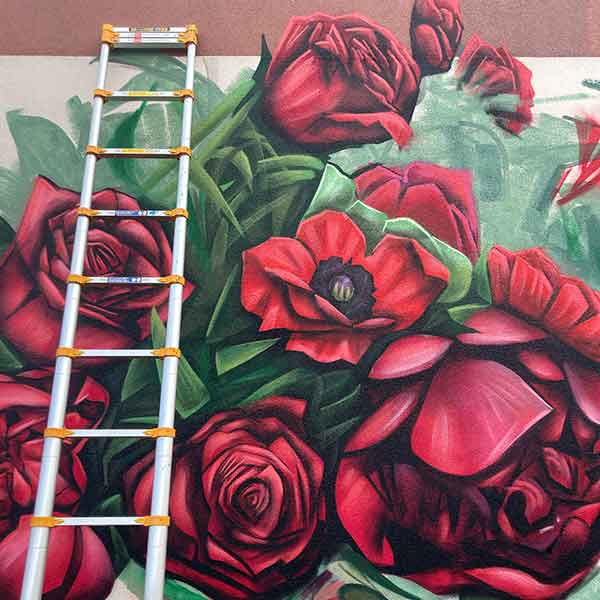 "It goes out in different directions," Ryan explains. "I have a lot of different influences, and I come from a background of academic painting, how to paint realistically. I'm also interested in abstract painting and colour relationship."
After collaborating with graffiti artists on some recent projects in Toronto, Ryan also developed a keen interest in the frenetic and highly technical street-level style – seeing what he can accomplish with a can of spray paint. "I see it as an advantage to dabble in many different things and styles," explains Ryan.
As for his relationship to Ottawa, and how it also influences his art, Ryan (who grew up in Ajax, but has called Ottawa home since 2007) embraces the supportive nature of the city – and the community of like-minded mural artists he's come to be a part of.
"As an emerging mural artist at a time when they're becoming more and more prevalent, it's a great city," explains Ryan. "Because Ottawa is a smaller city, there seems to be a tight-knit community of different artists and peers. There's a really supportive energy.
"All the mural artists in town, we all know each other. When a call goes out for a wall, it's almost like a friendly competition. Whoever actually gets the gig, we're all stoked that one of our friends got a good project. It's really supportive and unique in that way."
Ryan's story demonstrates the spirit of Ottawa as well as an appreciation for spectacular art. The artist's mesmerizing murals are true delights for the eye. You can catch a glimpse of his impressive art in the lobby of our Hintonburg Connection building.