Imagine sipping rich, black, coffee on the Westboro Connection terrace while soaking in a breathtaking view of Ottawa… a perfect start to the day! After, you might visit the fitness centre for a workout, take a short walk to Westboro Beach, or grab your groceries from Farm Boy conveniently located on the ground floor… how does that sound? All of this is possible when you live in a modern apartment at Westboro Connection, located in the heart of Ottawa.
Let's take a closer look at the top five reasons residents say that Westboro Connection is such a wonderful place to live.
Modern, brand-new apartments in Westboro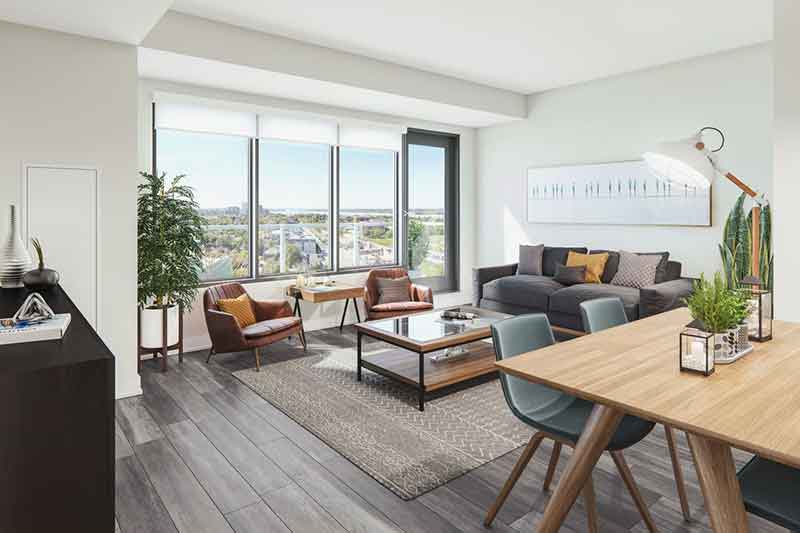 Westboro Connection properties are located at 1960 Scott Street and 315 McRae Avenue.
Westboro Connection's high-rise building offers a variety of sizes of brand-new and well-appointed apartments. Each unit is equipped with everything residents need to make their lives complete: stainless steel appliances, in-suite laundry, custom blinds, and air conditioning.
The bright, spacious living room is a perfect spot for residents to hang out with friends or unwind after a long day at work. There's no need to walk to Westboro Beach to experience the sunset – beautiful views are right are right outside your window. Just one of the many reasons to fall in love with Westboro Connection!
Amazing building amenities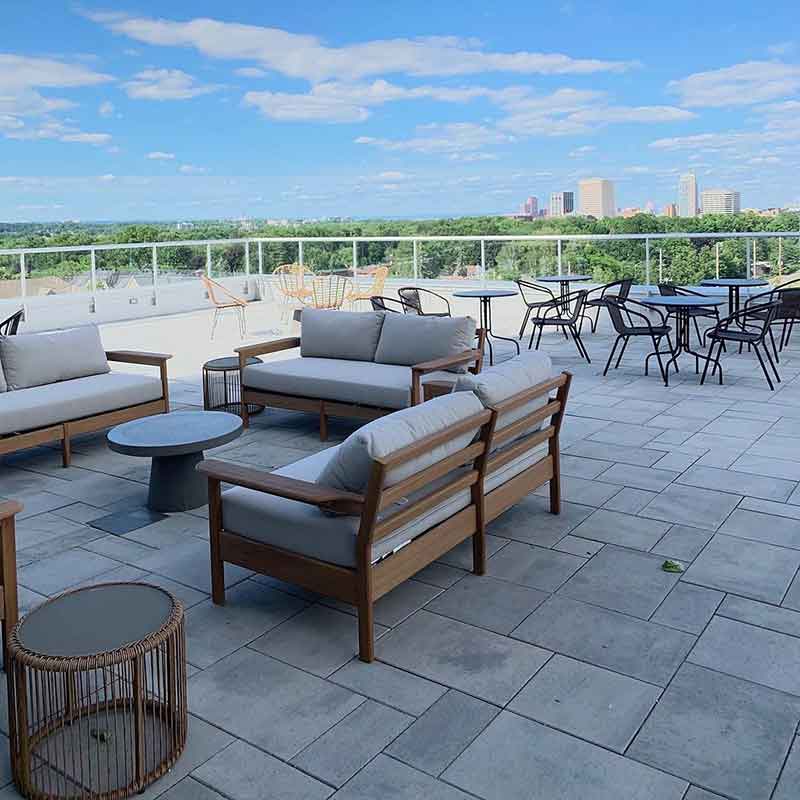 Westboro Connection was thoughtfully planned to meet the needs and wants of today's urban dwellers by Ottawa's award-winning Hobin Architecture. This brand-new complex features spacious shared spaces for work and relaxation, a party room, a well-equipped fitness centre, bike storage, bike maintenance facilities, and ground-floor retail.
Access to fantastic amenities such as a fitness centre and lounge room is what our residents love the most about the building. The Westboro Connection fitness centre is equipped with state-of-the-art machines suitable for a complete workout. Working from home has also become more convenient due to the availability of common work and relaxation areas throughout the building.
Farm Boy and our Discover Local partner, Bridgehead Coffee, can be found on the ground floor, ensure that our residents have access to fresh produce and are well-caffeinated.
We should also mention that furry friends are welcome. We're proud to be a pet-friendly building!
Top building features include
Lobby Lounge
Bicycle Storage Area
Pet Wash Facility
Furnished guest suites
Private Courtyard
Fitness Centre
Party Room
Co-Working Lounge
Flex Lounge
Terrace with BBQs
Secure Parcel Delivery System
Onsite Management
Onsite Car Sharing
Waste Valet
Our building is designed to support biodiversity in urban environments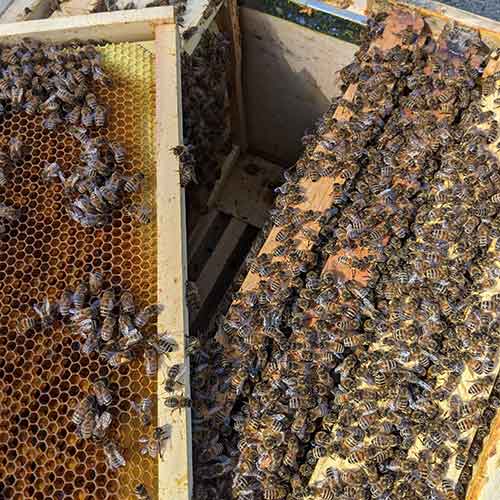 We partnered up with Alveole, a Canadian beekeeping company, to install a rooftop beehive to help restore declining bee populations (which are critical to the ecosystem's health) and reconnect residents with nature. The beehive was successfully installed in June of 2020, and the hive is now home to more than 37,500 bees.
Our Queen bee, Buzzlightyear, and her colony are working hard to produce honey for the Fall harvest!
Wondering how the Westboro Connection bees are doing right now? Visit MyHive at Scott Street and McRae Avenue to see what the bees are up to.
The best restaurants in Ottawa are steps away!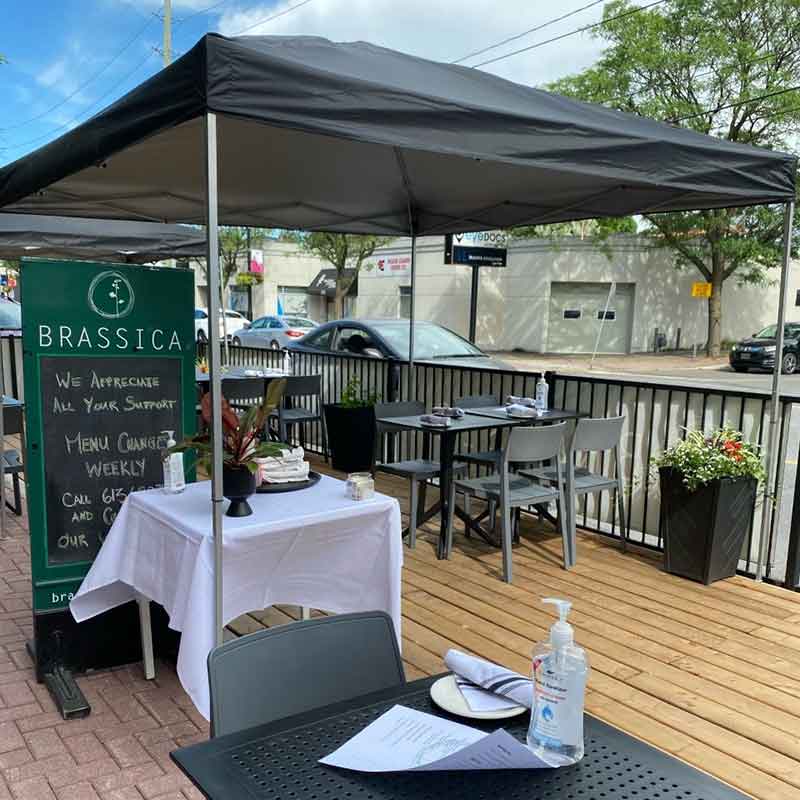 Westboro offers a diverse range of culinary experiences, from international cuisine to local favourites and Canadian classics. Westboro Village is where you'll find all the best culinary hotspots – whatever you're craving. Read about a few of our favourite restaurants with patio dining.
To help residents explore Westboro's fine eateries, we offer our exclusive Discover Local program. Residents receive coupons from more than 25+ Discover Local partners when they move in! There's a whole neighbourhood waiting to be discovered!
All of the "must do" activities are within walking distance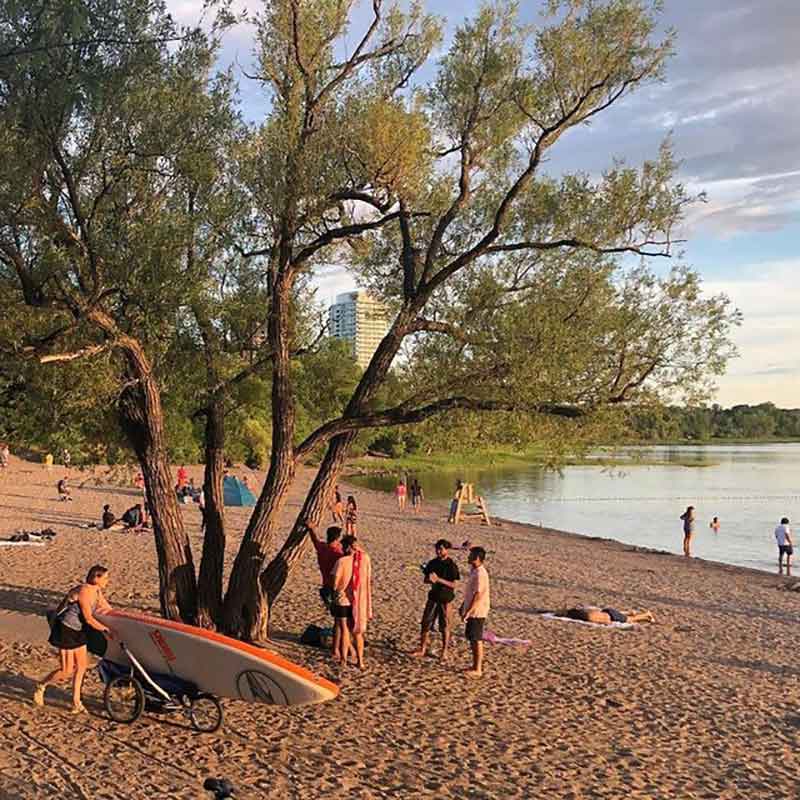 Westboro Connection is located in the heart of Ottawa, close to a wide range of activities. Westboro Connection is just minutes away from unique boutiques, parks and is just steps away from the Ottawa River path.
We love Westboro because it has the perfect mix of urban excitement and small-town charm. Shopping for some of Ottawa's best local products at Parkdale Night Market or visiting Orange Art Gallery to see the work of contemporary local artists are just a few ways to brighten up your weekday or weekend evenings.
Are you new to the neighbourhood? Read our recent blog post for the top 5 places to visit in Westboro this summer.
There are so many reasons why Westboro is a fantastic place to live, and we've only touched on a few today! (Insert shameless self-promotion here) Speak to one of our agents to learn more about the neighbourhood and the Westboro Connection lifestyle.
Current residents can contact the Tenant Services team to learn more about our referral program!